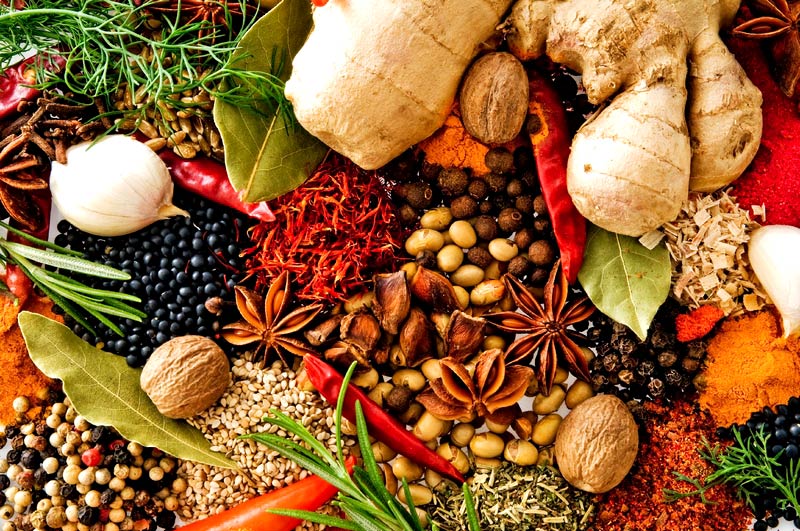 The contribution of Indian spices to health benefits has been well chronicled since Vedic times. Natural ingredients from flowers, leaves, roots, bark, seeds and bulbs are used in endless combinations to produce an infinite variety of flavors -sweet, sour, spicy, aromatic, tart, mild, fragrant or pungent. Spices not only add flavor but also nutrients to your dishes and that to without any fat or calories! Spices are a great source of a variety of vitamins and minerals and other nutrients. Example, Ginger holds good amount of vitamins like B5, B6 and minerals like potassium, manganese, copper and magnesium. Turmeric is an excellent source of  iron and manganese, vitamin B6, dietary fiber and potassium. Cinnamon is an excellent source of manganese and fiber and a very good source of calcium. Cardamom is rich in various vitamins and nutrients like vitamin A, Vitamin C, sodium, potassium, calcium, copper, iron, magnesium, phosphorous and zinc.
Spices provide us with tons of health benefits, some of which have been listed below:
Ginger helps to relieve common colds. It is known for its quick relieving effects on heartburn, nausea, upset stomach, diarrhea, motion and morning sickness. Anti-inflammatory properties of ginger make it a great natural remedy for headaches, minor body aches and even some cases of arthritis.
Turmeric has antiseptic and antibiotic properties. It is a great remedy for cold, cough and joint inflammation. It also helps in minimizing liver damages caused by excessive alcohol consumption or regular use of pain-killers.
Clove and clove oil have antiseptic and antibiotic properties and are used in medicines especially in dentistry. It has wider applications in preparations of toothpaste and mouthwashes, soaps and perfumes.
Asafoetida aids digestion. It is useful in the treatment of respiratory disorders like cough, asthma and bronchitis. It has been proven useful in the treatment of health problems concerning women such as unusually painful and excessive menstruation.
Cumin seeds have antiseptic properties that help fight cold and flu by boosting the immune system. Cumin helps relieve stomach pain, indigestion, diarrhea, nausea and morning sickness.
Cinnamon helps in treating nausea and vomiting. Cinnamon is anti-inflammatory, helps improve cardiovascular health, increases metabolic rate, helps control and regulate blood sugar, and has anti-microbial effects.
Cardamom is a great remedy for gastritis. It can help maintain healthy cholesterol level, prevent cancer, improve blood circulation, relieves muscle spasm and cardiovascular issues.  It is useful for curing dental diseases and urinary tract infections. Cardamom  is also used as a cure for impotency.
Nutmeg has anti-bacterial properties. It helps in fighting tooth decay, Alzheimer's and improves memory. It can also release the tension in muscles.
Black Pepper is anti- bacterial in nature , it helps improve digestion,  reduce blood pressure. It is also a rich source of iron.
Garlic has antiviral and antibacterial properties that help in boosting immunity,  purify blood, relieve cold and cough and migraines.  Garlic's ability to fight infections and bacteria makes it an effective cure for warts and skin problems.
"Food is for the body and spices for a healthier body, mind and soul, so spice up your food with the goodness of spices and feel the health benefits run down your body. "